Ry-Co Jazz - Dansons... avec le Ry-Co Jazz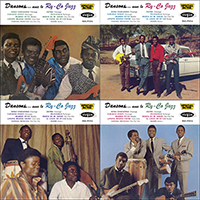 Nadat
Radio Martiko
eerder al naar het Cairo van de jaren zestig van de vorige eeuw afzakte, moeten we voor
Dansons… avec le Ry-Co Jazz
naar het
Congo-Brazzaville
van net na de onafhankelijkheid. Al in de jaren dertig en veertig werd de Cubaanse son enorm populair in
Belgisch-Congo
en het aangrenzende
Frans-Equatoriaal-Afrika
dankzij radiostations als
Radio Congo Belge
, Radio Brazzaville, Radio Leo en Congolia. Aan beide oevers van de Congostroom pikten lokale muzikanten de ritmes op, gaven er een eigen draai aan en creëerden zo wat we vandaag kennen als Congolese rumba. Van bands als OK Jazz, Les Bantous de la Capitale, Rock-a-Mambo en African Jazz verschenen talloze singles op labels als Olympia,
Ngoma
, Opika, en
Loningisa
, en ook Ry-Co Jazz (Ry-Co staat voor "rythmes congolais") hoorde tot het beste wat Congo in die periode op muzikaal vlak te bieden had.
Bandleider en vocalist Ferdinand N'konkou aka. Freddy Mars doet het verhaal: "In 1957, I started Ry-Co Jazz in Brazzaville. Initially, Ry-Co Jazz was a sextet: me on vocals, Casimir M'Bilia (aka Casino) on congas and vocals, Panda Gracia on bass, Pierrot N'Dinga on guitar, Fidel Bateke on clarinet and Pierrot Lukwamoussou on congas. We started playing in bars, night clubs and hotels in both Congos and went touring in Central and West Africa. In 1959, we were playing in Bangui (Central African Republic) at the same time that another band, Kangocero, was in town. They had a very talented guitar player called Jerry Malekani. He wanted to play Afro-Latin music as well, just like Ry-Co Jazz. Panda Gracia knew Malekani from his days in Kinshasa - Leopoldville as it was called back then. We made a deal and Malekani joined us from that day on. Malekani's virtuoso guitar soon took the band to a higher level. With this new line up, we played a few concerts to accompany the singer Henri Bowane. He tried to take over my band and ended up stealing 3 musicians from us. From that point on, Casino, Gracia, Malekani and I continued as a quartet touring the West African coast from Nigeria, Benin and Ghana, all the way to Ivory Coast, Guinea and Senegal. During a radio performance in Dakar, we got in touch with a producer who worked for Disques Vogue. He was interested in our music, so we signed a contract and recorded the first volumes of the
Dansons… avec
series. By the end of 1961, Disques Vogue asked us to move to France to record more songs and play all over Europe. We decided to take the chance. Unfortunately, we had to leave Gracia behind, because he had fallen in love in Dakar. In Paris, bass player Jean-Karl Dikoto Mandengue and the legendary Congolese sax and clarinet player Jean-Serge Essous joined us. Essous had already played with well-known rumba bands OK Jazz, Rock-a-Mambo and Les Bantous. With Essous, Ry-Co Jazz soon became a regular feature on the Parisian scene and toured all over Europe and Africa. We played for both native Europeans and African migrants. Concerts at night clubs could last for hours and we would play all kinds of Afro-Latin music. They were good times.".
Tussen 1961 en 1966 produceerde Ry-Co Jazz maar liefst 25 EP's vol aanstekelijke Afro-Latin sounds voor het Franse
Disques Vogue
label, en uit die EP's distilleerde Radio Martiko nu tien favorieten voor deze langspeler. Bonne ambiance avec le Ry-Co Jazz!
www.radiomartiko.be