Kel Assouf - Black Tenere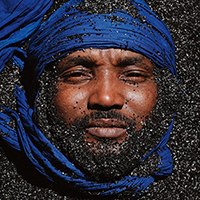 Voor
Black Tenere
werd het Belgisch-Algerijns-Nigerese
Kel Assouf
gereduceerd tot een krachtig power trio met Anana Ag Haroun op vocals en kenmerkende
Gibson Flying V
gitaar, producer en keyboard-genie Sofyann Ben Youssef op toetsen en Oliver Penu op drums. Anana laat er geen twijfel over bestaan: "Black Tenere is a rock album. It's a choice to give a more original touch that builds up the identity of Kel Assouf and differentiates it from the other groups of Ishumar music. For me the music has to travel and it has to be open to other sounds so that everyone can listen to the messages it carries.", en ook Sofyann Ben Youssef treedt bij: "I have a been rocker since my teens. I was trying to translate the Kel Assouf trio into a sound half way between its Nigerien roots and 70s rock, but also stoner rock, which is a music I played for many years. The rhythmic parts and synths show something from my electronic alter-ego AMMAR 808. I tried to tie together my disparate influences: electronic, ambient and rock. It was a natural thing to do after playing with Kel Assouf for all these years. The sound of the album is inspired from the musicians and their personalities, including myself.".
De stevige opener
Fransa
, waarin Ag Haroun verwijst naar de strijd die de Toeareg of Kel Tamasheq zoals ze zichzelf liever noemen, voerden tegen de voormalige Franse koloniale machthebbers: "
Black Tenere
talks about the Tamasheq tragedy, its history since colonization until today, and the geopolitics that unfolds in the desert for its natural resources.". Natuurlijk kan ook de liefde en nostalgie voor het nomadische woestijnleven, een traditie die alsmaar sneller aan het verdwijnen is, niet ontbreken, zoal in het meditatieve bijna psychedelische
Taddout
: "I follow the traces of antelopes, I live in the desert and its storms, my favorite flower is that of acacia. It's called Tabsit. Its perfume is that of freedom and loneliness, far from the tumult of city life.". Voor de opnames van
Black Tenere
trok Kel Assouf deze keer naar de Stureparken Studio in Stockholm. Sofyann Ben Youssef legt uit waarom: "Stureparken is a studio owned by musicians, one of them is a friend and fellow producer. The thing that is special about the studio is that it has a huge collection of keyboards, synths, guitars, basses and drums as well. All of them are vintage instruments, with some being rarer than others. The idea was to have more choices of good or weird sounding instruments. We were trying to find some special sounds and kept experimenting around that idea.". Maak uw borst alvast maar nat voor een stevige brok woestijnenergie!
Kel Assouf stelt
Black Tenere
op 14 februari voor in de Brusselse
Ancienne Belgique
, op 2 maart in
Theaterzaal Biekorf
in Brugge en op 11 maart in
Het Depot
te Leuven!
www.kelassouf.com
|
www.glitterbeat.com
|
www.xmd.nl