Ahl Nana - L'Orchestre National Mauritien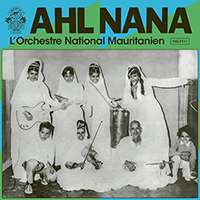 Het Belgische
Radio Martiko
liet ons eerder als kennismaken met het muzikale universum van de Egyptische auteur, dichter, muzikant, componist, regisseur, acteur, journalist, radioproducer en politiek activist
Abderrahman El Khamissi
en zijn collega, toetsenist
Hany Mehanna
, de Afro-Latin vibes van het Congolese
Ry-Co Jazz
, en trokken ze naar Colombia om het werk van cumbia-pionier
Lucho Bermudez
opnieuw in de schijnwerpers te zetten. Keer op keer sterke staaltjes archiverings- en restauratiewerk of "crate digging" zoals dat in vinylkringen heet.
Ook deze
L'Orchestre National Mauritanien
van het Mauritaanse familieorkest Ahl Nana is opnieuw het resultaat van veel research, toevallige ontmoetingen en gelukstreffers. Een verhaal dat leest als een ware avonturenroman of schattenjacht!
Tijdens een crate digging-expeditie naar Casablanca in 2015 kwam het team van Radio Martiko terecht bij straatverkoper Mostapha die wat cassettes en enkele singles in de aanbieding had, maar hen algauw uitnodigde hem te volgen naar zijn huis. Daar werden ze verwelkomd door Mostapha's vrouw Jamila die hen meenam naar een achterkamer die zich aan hen openbaarde als een ware grot van Ali Baba: van de vloer tot de nok gevuld met ongespeelde vinylplaten!
Martiko Records: "We spent the next two days listening and selecting. Most releases were 45s from the Boussiphone label. Jamila explained that when the cassette was introduced to the Moroccan music market in the 1970s, everybody stopped buying vinyl. A single containing one or two songs cost 5 dirham, while a cassette with up to ten songs or more cost only 1 dirham. Within a few months vinyl records became obsolete and record labels who had warehouses full of unsold stock saw no other option but to throw them away! Mostapha saved some of these records and preserved them for 40 (!) years. Needless to say we found many amazing releases, but there were a few that really stood out. These contained deep and mesmerizing desert blues with angelic vocals. The name of the band responsible was Ahl Nana - Orchestre National Mauritanien."
Ook de nummers op deze verzamelaar van Ahl Nana komt van twee LP's en een handvol singles geproduceerd door het Boussiphone label van de Marokkaanse familie Boussif, al in 1938 opgericht door Mohammed Boussif.
Radio Martiko: "A few months later we discovered that one of the owners of the Boussiphone label had a store close to the Midi station in Brussels, where a big Moroccan community is based. He also told us that they still had lots of records in Morocco, which naturally prompted another trip to Casablanca. We met up with Ali, the oldest son of the Boussif family and he eventually took us to a villa on the outskirts of town where he stocked copies of their releases in the basement. You can imagine how happy we were when we found not one but two complete albums by Ahl Nana. We tried to find out more, but weren't able to get any additional info. Overwhelmed by the beauty of this music and knowing how rare these records were, we realized that we had something precious and unique in our hands which we wanted to share with the rest of the world."
Nu was het enkel nog kwestie van in contact komen met de illustere familie Ahl Nana, gemakkelijker gezegd dan gedaan!
Radio Martiko: "Mauritanians don't have the tendency to document or write down their history, which made it almost impossible to find traces that might lead to the family. We just found a few YouTube movies of Yacine Ahl Nana who was a very popular musician during the nineteen eighties and nineties. Just as we were about to give up, Christopher Kirkley of the Sahel Sounds label and Intagrist El Ansari, a Mauritanian journalist, offered their help and we were finally able to get in touch with Mouna and Tahra Nana, two of the daughters of the Ahl Nana family who performed on the records."
Mouna Mint Nana: "These records bring back great memories! We were so young and beautiful. I remember very well that we stayed with the Boussif family in Casablanca and I do remember the recording sessions, but I never saw or heard these records before. It's not something common in our culture to make records. We played live concerts and on radio shows and that's how people got to know our music. In Mauritania and even beyond the borders of our country, people knew our songs word for word, so there was no reason for us to make records. It was a series of coincidences that led to the recording sessions. It all started when we were playing in Agadir, in the south of Morocco. A local minister who was a big fan of us, wanted us to play for king Hassan II, so he interrupted the live broadcast of the TV-news to present the band and to ask the king to invite us. You must understand that politicians liked us in those days, because we represented the modern, Arabic Mauritania, which suited the image they wanted to present to the people. King Hassan did invite us and sent a big military transport plane to pick us up. In Fez we performed at a festival in honor of the king together with other artists like Abdel Halim Hafez and Baligh Hamdy. The concerts were broadcasted on Moroccan national television and Ali Boussif, who had seen the concert, subsequently invited us to Casablanca, were we had a great time. Eventually we returned to Mauritania, life went on and we didn't really think about what happened to those recordings!"
Tot nu dus, want dankzij het bloed, zweet en tranen van Radio Martiko kunt u eindelijk kennismaken met wat eigenlijk de fundamenten zijn van wat wij vandaag kennen als "desert blues" of "Toeareg blues". Als zet opener
Adji Kar Teri Miri
, een cover van
Aajkal Tere Mere Pyar Ke Charche
, een nummer van
Mohammed Rafi
en
Hasrat Jaipuri
uit
Brahmachari
, een Bollywoodproductie uit 1968, gezongen in het Hindi, u wellicht nog even op het verkeerde been.
Mouna Mint Nana: "This was all due to our mother, Mint Soueid Bouh, who was Mauritanian but grew up in Timbuktu, Mali. Due to trade, Timbuktu was a cultural melting pot. Mother picked up all these influences and processed them in her own compositions. We were the first band from the Sahara to play in this style. We totally changed traditional Moorish music and modernized and Arabised it. After a while many groups in Mauritania and other parts of the Sahara started to copy our style. Nowadays Tuareg groups like Tinariwen and even Youssou N'Dour play our songs!"
Baanbrekend pionierswerk dus van een bijna vergeten Mauritaans gezelschap!